Security Awareness Training
Symbol helps users meet critical industry requirements AND educates users to reduce corporate cyber risk through its security awareness training services. Symbol's multidimensional approach to learning includes interactive training videos, simulations that track and teach, and a blend of real situations promote critical thinking and learning in everyday context. The frequency and styles of learning leverage scientifically proven strategies for effective learning. If this sounds like a smarter way to reduce your cyber risk, it's because it is!
Compliance

Security Awareness Training may be required to meet certain regulations.

Human Error

90% of cybersecurity breaches are effective due to human error.

Human Cyber Risk

Security Awareness Training is the single most effective way to reduce human cyber risk.
Why is Symbol a Better Choice?
A Smarter Risk Reduction Bundle
Symbol bundles awareness training and phishing simulation services with other areas of risk for humans including stolen credentials on the dark web, password management, and social media exposure
Symbol is a Partner-First Company!
Symbol embraces and empowers its partner channel - from IT sellers, to MSP/MSSP's to vCISOs to Risk Advisory Consultants - we know our product is better when delivered by our value-added partners!
Managed Services
From helping MSP/MSSP/vCISOs run their program deliverables, to turnkey security awareness program management for it's clients, Symbol can take the burden off of you and allow you to focus on your core business.
Our Service...Your Brand
Symbol allows it's MSP/MSSP and vCISO channel partners to brand and white label our solutions, enabling easy bundling and packaging into your IT security services suite.
Committed to A Great Experience
Symbol focuses on customer and partner service. While great software is good, great service is better!
Easy Scheduling and Reporting
Symbol allows administrators to easily schedule training assets for employees and track their progress with smart metrics.
Topics covered in the Symbol Security Awareness Training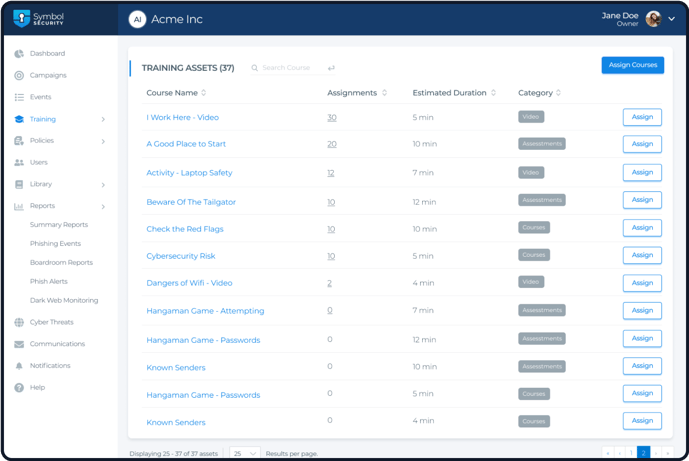 Review of Your Security Policy

WiFi Safety

The Basics of Identifying Phishing Emails

Laptop and Device Safety

Protecting Sensitive Information

USB Devices

Insider Threats

Safe Office Place Behavior

Password Hygiene and 2FA/MFA

Social Media and Mobile Safety

Recognizing Phishing and Scams

Industry Compliance

Reporting Incidents
Ready to Get Started?
Reach out to us today and get your business started with Symbol's security awareness training.